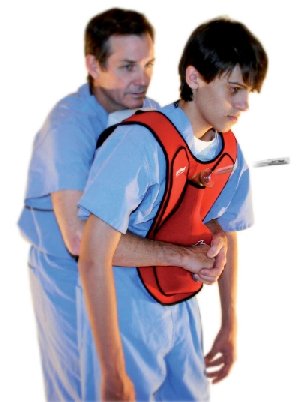 How it Works
It's simple, an individual wears the Actfast Anti-Choking Trainer whilst another demonstrates the manoeuvre. If the skill is performed correctly then an object will be dispelled from the trainer.
If the exact, correct technique is not performed then the object will not be dispelled. When performed correctly there is no risk of injury to students and they leave the class fully confident in performing Abdominal Thrusts.
Back Slaps
We supply the Actfast anti-choking trainer with a built in back pad to allow back slaps to be applied to the student. This allows students to practice the AHA and ERC anti choking skills.
Other Skills
Students or individuals at home can practice choking treatment skills. Persons can also practice relief of choking on their own at home by using furniture, worktops etc. Ideal for school teachers, youth clubs, scout groups, parents, individuals and of course BLS instructors.